Shockproof Flashlight
When you drop your hard-earned money on a highly-touted product, you rightfully expect it to last through all manners of wear and tear.
Unfortunately, many flashlights and other lighting products refuse to uphold their part of the bargain, and that's frankly unacceptable. Years ago, Panther Vision shifted its efforts toward changing the lighting industry with our FLATEYE™ flashlight, and we resolved to provide our customers with a product that checks all the boxes.
Utilizing top-tier materials and a meticulous construction process, we've created a flat shockproof, waterproof flashlight that provides you with a reliable partner in just about any situation.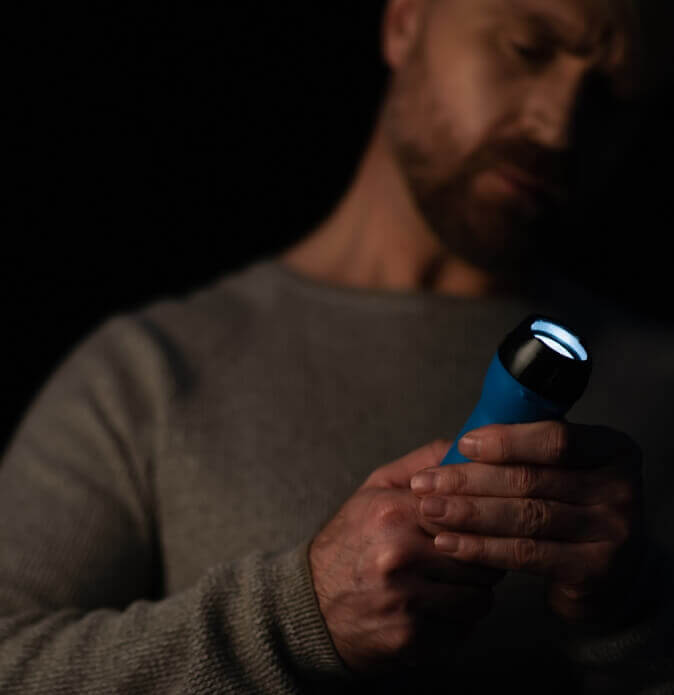 Creating a Strong, Shockproof Flashlight
We all make mistakes from time to time. Drops and collisions happen, but that shouldn't immediately de-commission your flashlight. When you invest in a FLATEYE™, you won't concern yourself with inferior plastics and metals any longer.
We construct our flashlights to meet exacting standards, as we utilize aircraft-grade aluminum and tactical polymer to form the body. You won't need to worry about the light itself either, as we use durable CREE LEDs to complete the shockproof design.
Overall, your FLATEYE™ will easily withstand all sorts of impacts. The shockproofing protects it from drops of approximately 10 feet without suffering significant damage, outside of perhaps a few aesthetic scratches. Given the high-grade materials used in the manufacturing process, we're confident it would take more than that to sustain damage as it guides your way with unsurpassed illumination.
Providing The Ultimate Waterproof Flashlight As Well
We're a brand focused on the outdoorsmen and women of the world, which means we know our customers participate in frequent trips and activities in and around the water. From fishing to boating to hiking, you're going to get wet from time to time.
The degree of your water exposure will vary, but many flashlights can't even handle a tiny bit of moisture before their electrical components bite the dust. Instead of worrying about how one ill-fated drop could eliminate your light source, handle our FLATEYE™ with complete confidence.
Unlike many round flashlights, which feature loose screwtops and hatches, the FLATEYE™ uses strong seals on its switches and plugs to make for the ultimate waterproof flashlight. You can submerge this handy device in up to a meter of water, yet it will still remain functional. Whether it's an accidental drop or planned submergence, your FLATEYE™ will refuse to be extinguished.
A Comprehensive Package That Changes The Game
Not only is our FLATEYE™ an unbeatable combination of waterproof and shockproof, but it offers an array of advantages over other common options that you can't ignore. Our top-of-the-line flashlight also features state-of-the-art heat dispersion technology, a pistol grip for increased handling comfort and extended battery life due to two rows of batteries.
If you want to learn more about how Panther Vision has changed the industry, contact us today.